Sep 2019 to Dec 2019 cue cards with answers
Dear Students
Speaking part is the most important part of the IELTS ( International English Language Testing System ) It is quite difficult to get a good score in the speaking exam because students are not confident about it and they regularly think, how will they answer the questions in an effective way? But Dear pupil you do not need to worry about the questions in your speaking exam, we are providing regular updates and a list of cue cards of Sep 2019 to Dec 2019. this is not sure about these cue cards asked in the exam but students can practice with these cue cards and raise up their self-reliance.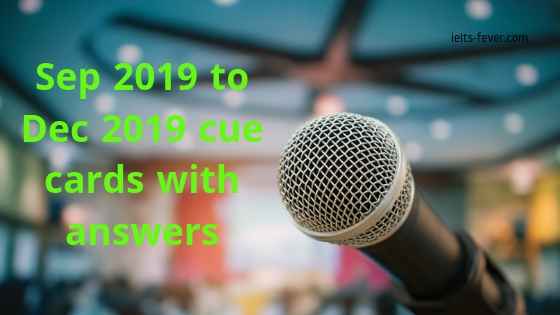 You can read samples of these cue cards and speak as per your requirement but please do not memorize any answer because this will downgrade your band score. for answers of the cue card click on the cue card and, you will get the sample answer of the cue card. on our website, there are more than two sample answers for each and every CueCard and, we regularly update these CueCards. Our humble request to the students please comment on this post and must mention the CueCard which comes in your exam, This will help the other students and we also make a post of sample answer of the cue card. Which we get in comments, Feedback Form You can also send the Cue card via Email, Our Email Address is [email protected]
dear students, Best of luck for your IELTS Exam. These cue cards will be updated regularly and you can also share your answers with us. So please Subscribe Our Website Via Email, Allow Push Notifications, Like our Facebook Page, Follow Us on Twitter and Pinterest and also follow us on other social media services. You can also add in our Whatsapp Broadcast List where you can get the latest updates and Daily New Words and Daily Tips and Tricks about the IELTS Exam. To Join in our Whatapp broadcast list Send "Join Me 'Your Name'" Eg. " JOIN ME HARPREET KAUR" on +919914301883.
NOTE:-  Rest of the predictable cards we are updating regularly so keep visiting our Website ielts-fever.com and Subscribe. Once again please share the recent cue cards in comments or in the feedback form and feel free to send any query via Email or FeedBack Form. This will help us to improve our services and website
Talk about one of your childhood toys.
Talk about a piece of information you received from somewhere.
Talk about an interesting conversation you had (on phone or face to face).
Describe an event you celebrated when you got success.
Talk about a time when you visited somewhere and lost your important thing there. Now you want to go there.
Describe your childhood school.
Talk about a gift you took or received from someone.
Describe one of special foods in your country.
Talk about a problem you solved through internet.
Talk about a time when you gave advice to someone.
Talk about a piece of Local news that was interesting.  or Describe recent news you heard.
Describe the character or personality of yours.
Talk about something ( food or equipment ) that you have shared with others.
describe a method that helps you to save money.
Describe an important email that you have received lately.
Talk about your favorite APP on your mobile.
Talk about an exciting book you read or A book you read and found very interesting.
Talk about a website which helped you to do something Or A website you visit often/use regularly.
Describe a quiet place.
Describe a time when you heard a piece of good news.
Describe a time when you had to change your plan.
Describe an outdoor sport that you have not done yet.
Describe a TV program that made you laugh.
Describe a game or sport you enjoyed when you were young.
Talk about a time when you got up extremely early.
Talk about a public facility that improves local life quality.
Talk about the happiest situation of your life.
Talk about a thing you complained about.
Talk about a radio program you heard.
Keep Following Us Sep 2019 to Dec 2019 cue cards with answers.