The chart below shows the number of men and women in further education in Britain in three periods and whether they were studying full-time or part-time. Summarise the information by selecting and reporting the main features, and make comparisons where relevant.
---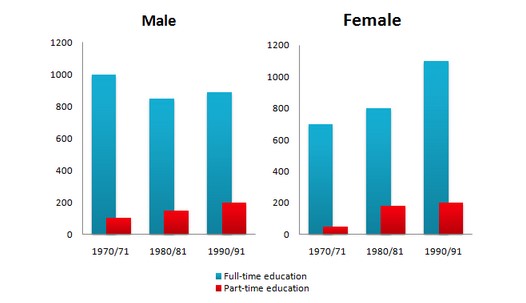 The bar chart illustrates the further study chosen by both genders in full-time and part-time education in Britain.
Overall, it can be observed that full-time education was the most preferred by both genders. There was an increase in the number of students in part-time education over the given time for both genders.
It is interesting to see that students in full-time education in mail fluctuated, while there was gradually rose in the number of female students in full-time education. One thousand male students were enrolled in full-time education in the year 1970, which was the highest among this gender. These figures were fluctuated and reached around 900 male students in 1980. By contrast, nearly 100 male students were selected for part-time education in 1970, and it was doubled in 1990.
The number of female students was Rose with time in both categories. Nearly 700 and 50 female students for Android in full-time and part-time education, respectively. In contrast, these figures considerably increased and reached approximately 1100 and 200 female students respectively.
Follow Us on Facebook