The chart below shows information about the challenges people face when they go to live in other countries. Summarise the information by selecting and reporting the main features, and make comparisons where relevant.
---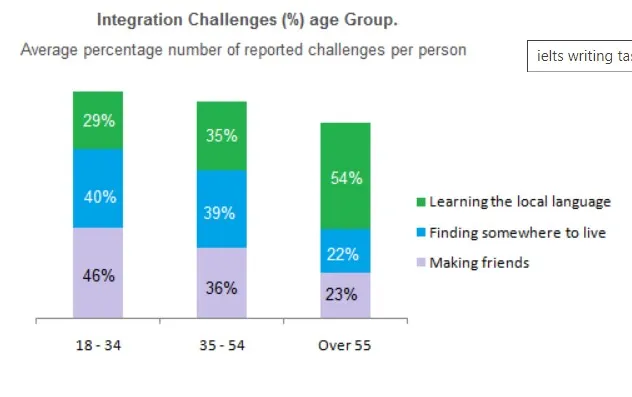 Sample Answer of The Chart Below Shows Information About the Challenges People Face
The bar graph illustrates the information about how many people faced difficulties when they go to live in other countries.
Overall, it can be clearly seen that difficulties to learn local languages for older people are highest whereas youngsters learn quickly.
If we look at details, as regards the 18-34 age group, the major difficulty is to make new friends. Although, accommodation play the middle role for the people in this age group.
Moreover, if we look at the middle column of the graph, which consists of the data about the people having age between 34 and 54 facing difficulties on an average equal in all the three criteria.
The last column displays the elder persons who feel very little difficulties collaborating with new friends. In contrast, they are less able to communicate with the locals.
To conclude, we can easily say that number of youngsters who migrate to another country is more as compared to others.
Also Read Some Believe That People Will Buy a Product Based on Their Needs
Follow Us on Facebook