The diagrams below show the stages and equipment used in the cement-making process and how cement is used to produce concrete for building purposes. Summarise the information by selecting and reporting the main features, and make comparisons where relevant.
---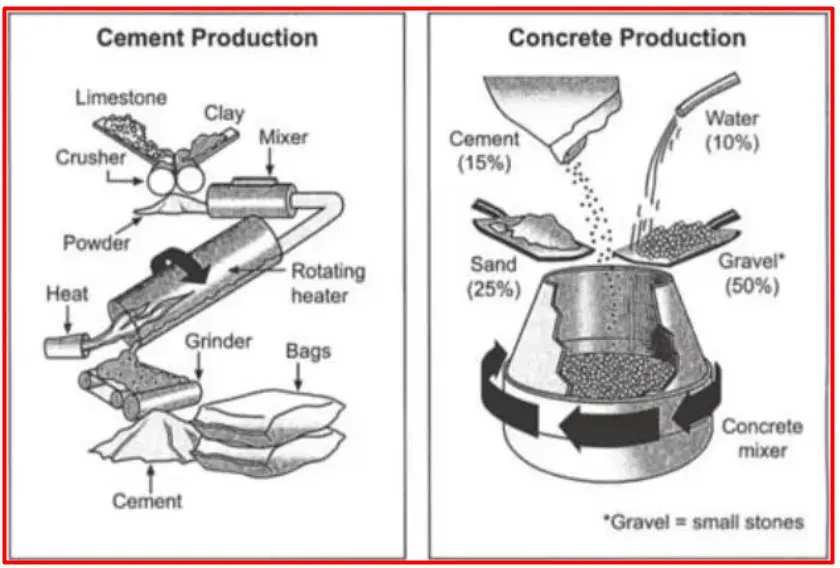 The process diagrams illustrate the process of how to produce cement and concrete. In former diagram have six steps, while later have just one step, which plays an important role in the diagram.
In order to produce cement. First of all, limestone and clay are crushed to make the powder. Subsequently, this powder is put in the mixture. Then, powder has to be heated by a rotating heater which is attached to a small heater. In the Next step, heated material is ground, and in the penultimate step, the cement production process is completed. Ultimately, cement is ready for packing in bags and for sending to industries.
In the case of making concrete. Firstly, 50% of cement, 25% of sand, 50% of small stone (gravel), and 10% of water are put into the concrete mixture. Then, the concrete mixer mix all the integrates by the rotating process; after the rotating process, cement is ready for use.
To conclude, the cement production process and initiates from rushing and ends with packing while concrete production has just one step, which plays a paramount role.
Follow Us on Facebook