The chart below shows the changes that took place in three different areas of crime in Panama City from 2010 to 2019. Summarise the information by selecting and reporting the main features, and make comparisons where relevant.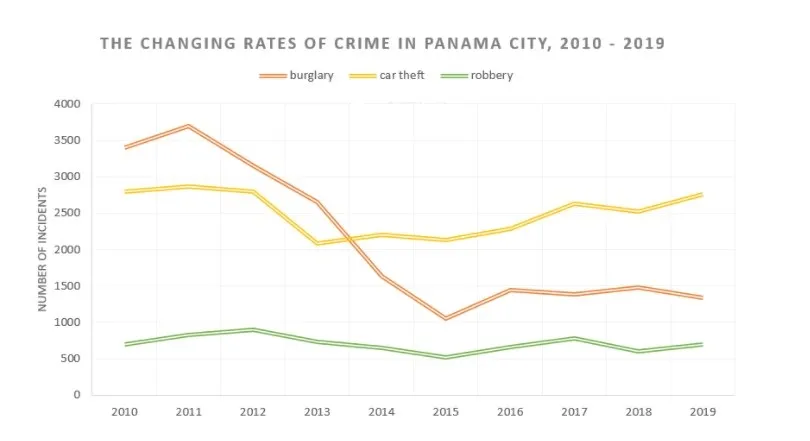 The given line graph gives details the occurrence rate of crime over nine years in Panama City.
Looking from an overall perspective, it is readily apparent that reported cases of car thrift were maximum and robbery with the minimum occurrence rate throughout the given period.
Looking at the two leading causes of crime, burglary was high in 2010( nearly 3500) but declined over the years from 2012 to 2015 to as low as 1000 offences and steadily increased till 2019. Car theft accounts for precisely 2750 of all crime scenes and maintained a slow increase over two years until 2013 where there was a sharply dipped to an occurrence rate of 2000. Car theft increased gradually from 2013 over five years, becoming the highest crime in 2019.
The less crime is seen, robbery in Panama City, were below 1000 even though there were some fluctuations in its occurrence rate between 500 and 1000 with it maximum and minimum rates in 2012 and 2015 with 1000 and 500 respectively as surveyed.
Follow Us on Facebook 
Also Read The Pie Chart Shows the Amount of Money that a Children's Charity Located in the USA