Compare the amount of electricity generated in Scotland by energy source for 29 years ago and last year. Summarise the information by selecting and reporting the main features, and make comparisons where relevant.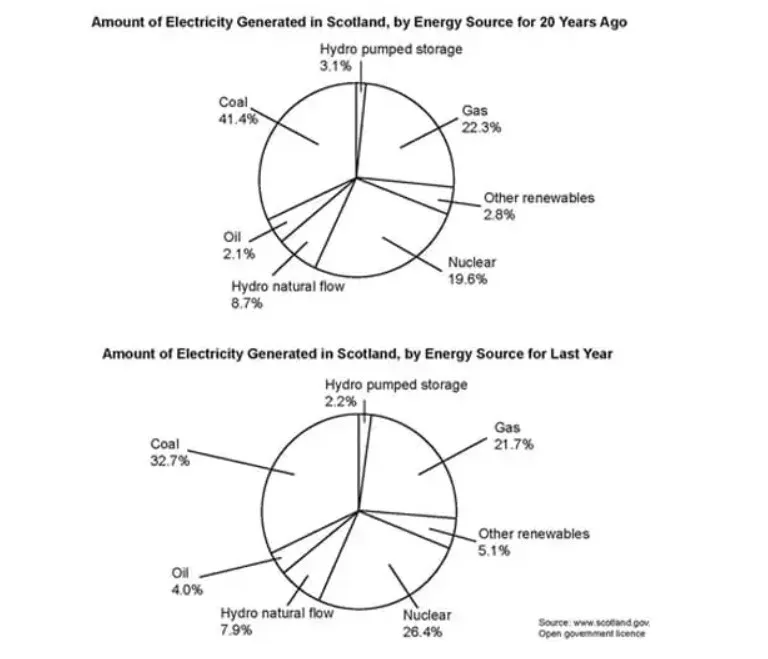 The given two pie chart depicts the electricity generated by various power sources in Scotland over a 20 years period and last year.
Overall, it is clear that in Scotland 20 years ago coal is a higher than other sources for generating electricity but decreased by 10% in last year and the lowest produced by oil for 20 years back but in last year by hydro pumped storage has been lowest production.
To begin, although in Scotland 20 years back electricity produced by coal with 41.4 per cent had highest in last year it had been reduced by 32.7%. In 20 years before electricity was generated by gas and nuclear with 22.3 per cent and 19.6% respectively. On the contrary four, last year gas decreased only 0.6% and nuclear increased by 8%. The other sources oil, National hydro flow, hydro pumped sources and which is other renewables sources had a small amount of electricity produced in 20 years ago and last year in Scotland.
Follow Us on Facebook 
Also Read The Bar Chart Illustrates Population Trends Globally