The maps below show Pancha Village in 2005 and 2015. Summarise the information by selecting and reporting the main features, and make comparisons where relevant.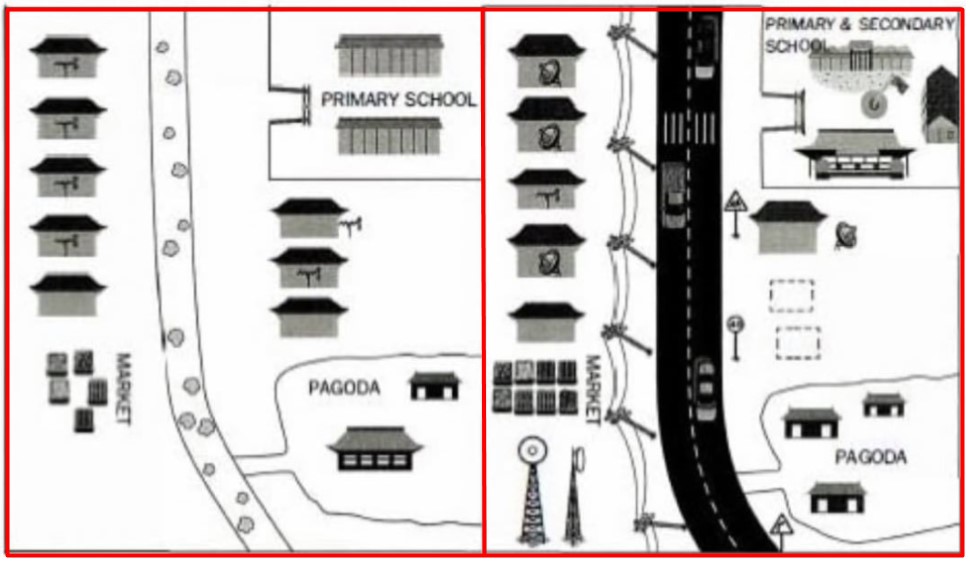 The changes that occurred in Pancha village are shown in the maps in 2005 and 2015.
Overall, it is observed that numerous advancements occur in Pancha village with the passing years. The major changes are road construction, development of the market, formation of new secondary schools.
To begin with, Pancha village was less advanced in the year 2005 because fewer facilities were available as shown in the layout. Only primary school was available to children in the village, while in 2015, a secondary school was formed. Two network towers were installed. A new wide road was also constructed, and trees were grown on its sides, signboards placed on the other side, which was not available in 2005.
In addition to it in 2005, the village market was less developed compared to 2015. In the pagoda, more houses were built in 2015. The houses near the village market were almost the same in both the years, but on the other side of the road, the number of houses located in 2005 was not the same in 2015.
Follow Us on Facebook 
Also, Read The Bar Chart Shows the Number of Visitors to Four London Museums