The charts below show the percentage of the energy generate from different resources in a country in 1985 and 2003. To summarize information by selecting key characteristics and compiling a report and, if necessary, making a comparison.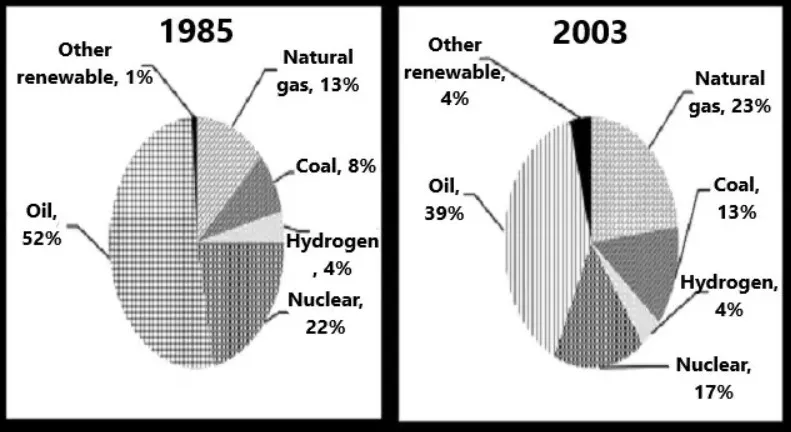 Sample Answer of The Charts Below Show the Percentage of The Energy Generate
The two pie charts illustrate the energy generation from different resources in a country percentage-wise in the years 1985 and 2003.
Overall, at the beginning of the period, oil contributed the most to energy generation, while nuclear was the second most significant energy generation component. In comparison at the end of the period, natural gas became the second most energy-generating sector following behind the oil sector which still contributed the most among all,
Natural gas accounted for 13% of energy generation in a country in 1985, with an enormous growth of 10% more in 2003. Energy obtained from coal and other renewable resources in 1985 was 8% and 1%, respectively, which made up 13% and 4% in 2003.
Oil, which comprised more than half of a country's energy generation resources in 1985, fell to 39% in 2003. In 1985, the gain of energy from nuclear power was 22% and decreased to 17% after an 18-year period. In contrast, contributions from hydrogen remain constant in both years at 4%.
Follow Us on Facebook Page
Also, Read Some Think that Fathers Should Have Time Off from Work After the Birth of A Child