The bar chart below shows the popularity of well-known Instagram accounts in 2011 and 2021. Summarise the information by selecting and reporting the main features, and make comparisons where relevant.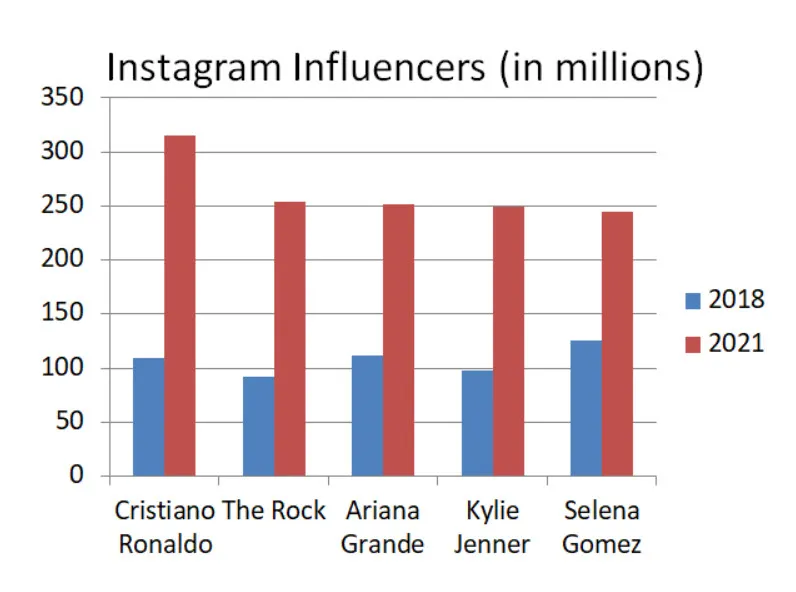 The given chart compares the increment in the number of followers of the most followed Instagram influencer accounts from 2018 and 2021.
As Instagram started to become more popular among the general public, there has been significant growth in the follower's count of these celebrities.
The least followed account among all the top followed influencers in 2018 was an American actor, The Rock, with around 90 million followers, whereas the account with the highest followers counts in 2018 was a world-known American singer Selena Gomez with approximately 125 million followers, which is 35 million more than the least followed top influencer of 2018.
Coming to 2021, almost all of the influencers were at a similar followers count of around 250 million except Cristiano Ronaldo, who surpassed everyone and became the highest followed influencer on Instagram with approximately 310 million followers. His followers tripled between 2018 and 2021. On the other hand, the highest followed influencer of 2018 slipped to the least followed among these influencers with a little bit less than 250 million followers in 2021.
Follow Us on Facebook 
Also Read Some Countries Are Considering Imposing Curfews in Which Teenagers