The maps below show the town of Lynnfield in 1936 and then later in 2007. Summarise the information by selecting and reporting the main features, and make comparisons where relevant.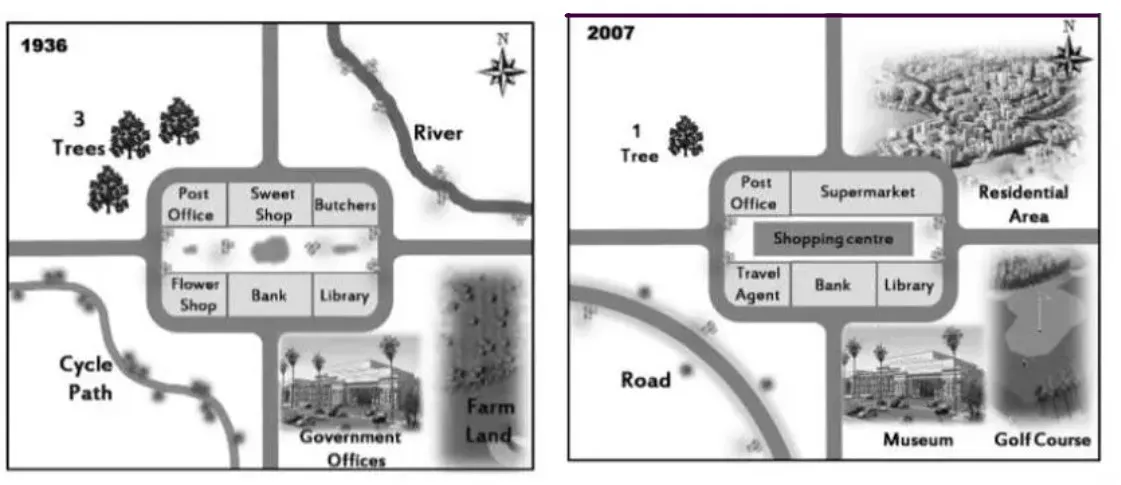 The maps illustrate information about developments of the town of Lynnfield in 2007 compared to 1936.
It is conspicuous from provided maps that a town has significantly changed in the northeast as well as southeast part while a plunge in development on the opposite side and the town's centre point in 2007.
Explicitly, in 1936, a river passed in the middle area of the northeast region, which remarkably developed with residential area in the year 2017. It is noticeable that there was a drastic change in the southeast part for which government offices and farmland available in 1936 were replaced with museums and golf courses respectively in 2007. However, the library, post office, and bank were only those objects which remained the same in the place for both the given year.
On further scrutiny, minor evolution was observed on the left side of the town as at the southwest portion cycle path and travel agent both were exchanged with straight road and travel agent shop in 2007. Furthermore, there were only three remaining in 2007 and a new shopping centre expanded at the heart of the city.
Follow Us on Facebook 
Also  Read Some Countries Are Considering Imposing Curfews in Which Teenagers